calms itching in sensitive or allergic skin
Solid shampoo for dogs, helps reduce neuronal stimulation of itching and interrupt the itch-scratch cycle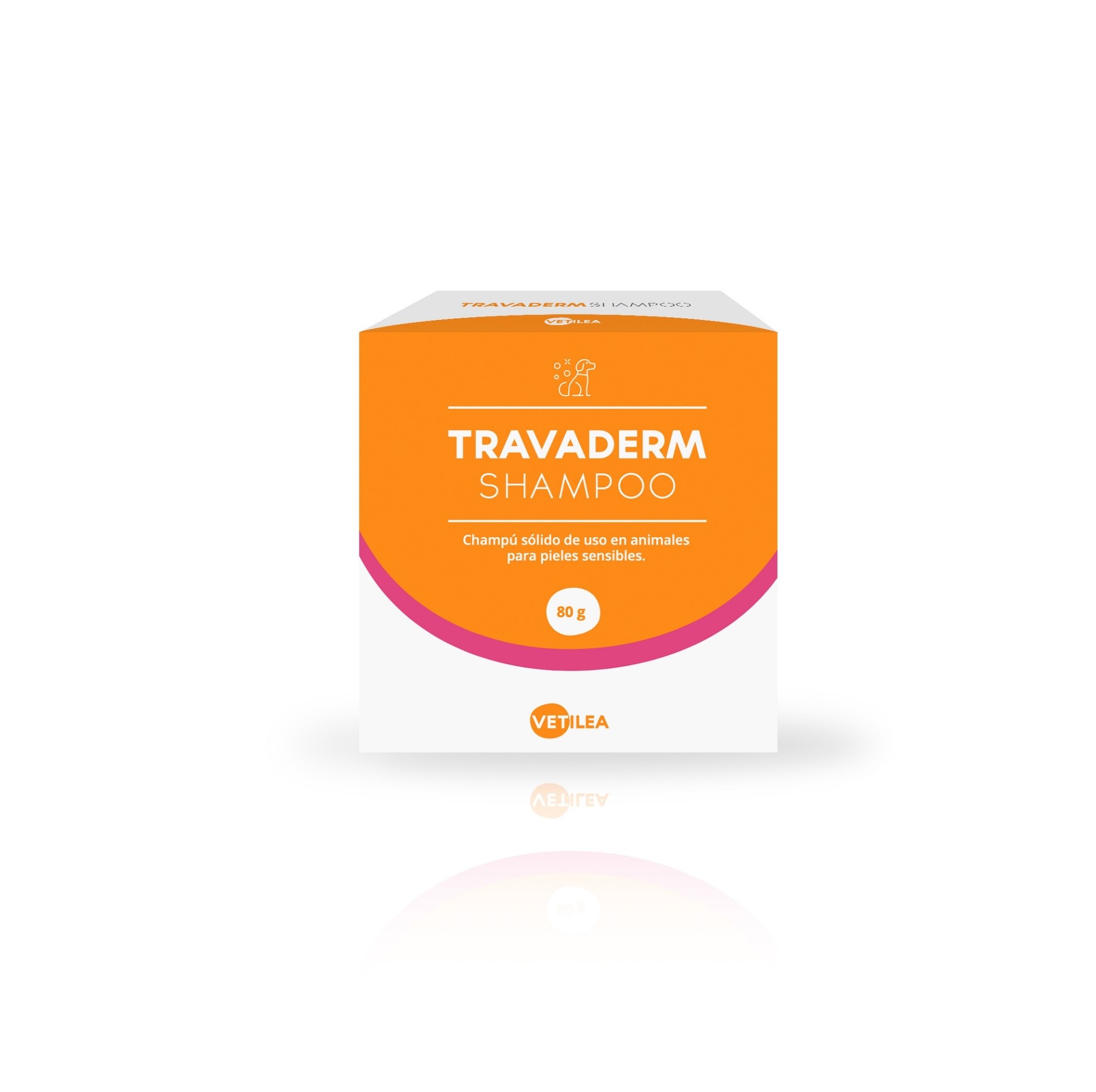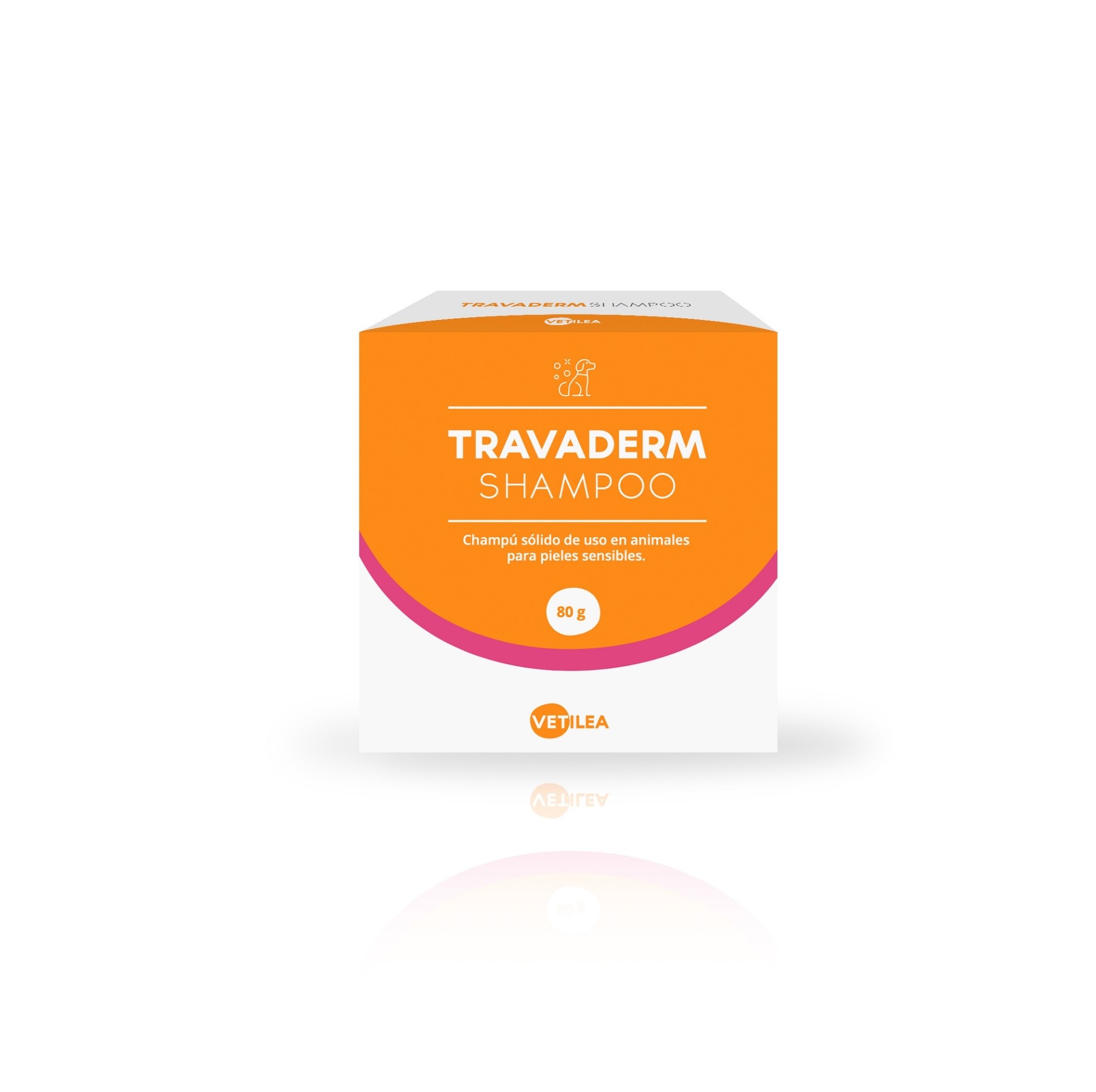 calms itching in sensitive or allergic skin
Solid shampoo for dogs, helps reduce neuronal stimulation of itching and interrupt the itch-scratch cycle
It works through a novel mechanism
Vetilea Travaderm Shampoo is a solid shampoo to calm itching in dogs with sensitive or allergic skin.
Contains Hydroxymethoxyiodobenzyl Glycoamide Pelargonate (HMBG), a TRPV1 (Transient Receptor Potential Vainilloid 1) antagonist that helps stop neuronal stimulation of itching and interrupt the itch-scratch cycle. In addition, it helps maintain the skin's barrier function and reduce oxidative stress.
It also contains argan oil and hydrolyzed silk that helps to soften the skin and keep hair and skin in good condition.
As it is a solid shampoo, it is not packaged in a plastic container, helping to reduce its consumption.
It is the first product that acts at the neuronal level to stop itching
80 g, solid shampoo for use on animals, without plastic container
It is the first product that acts at the neuronal level to stop itching
80 g, solid shampoo for use on animals, with ecological packaging without plastic
Vetilea Travaderm Shampoo is presented in a solid, easy-to-apply format, without parabens.
Components:
Water
Glycerin
Hydrolyzed silk
Perfume fragance)
Polyglyceryl-4 laurate
Cocamidopropyl Betaine
Sodium cocoyl isothionate
Hydrogenated vegetable oil
Tetrasodium glutamate diacetate
Argania Spinosa Seed Oil
Hydroxymethoxyiodobenzyl glycoamide pelargonate
External use. Wet the animal with lukewarm water. Apply Travaderm Shampoo to hair and skin, massaging it into a lather.
Leave on for 5-10 minutes and rinse with lukewarm water.
Avoid contact with the eyes and mucous membranes, do not ingest.
This book presents a series of clinical cases of localized pruritus of different aetiology covering different locations.
How to apply during baths?
In this video Xavier Serra explains how to apply the shampoo correctly, during all phases of the bath.
HMBG is a TRPV1 channel antagonist, a non-selective neuronal channel. This channel transmits the itch sensation to the brain through different intracellular signalling cascades. When the signal reaches the brain, the scratching reflex is produced. HMBG blocks the TRPV1 channel, inhibiting the transmission of the itch sensation to the brain.
Yes, it can be used in combination with pharmacological therapies, with diets and food supplements. 
Yes, Travaderm shampoo can be used for frequent bathing
No, it can't be applied on eyes and mucosas
The shampoo should be dried and kept on a soap tray or in its original box.
LAUNCH OFFER TRAVADERM SHAMPOO
Fill out this form
to receive more information