Specialized Omega-3 fatty acids
Support to support the body's natural ability to resolve inflammatory processes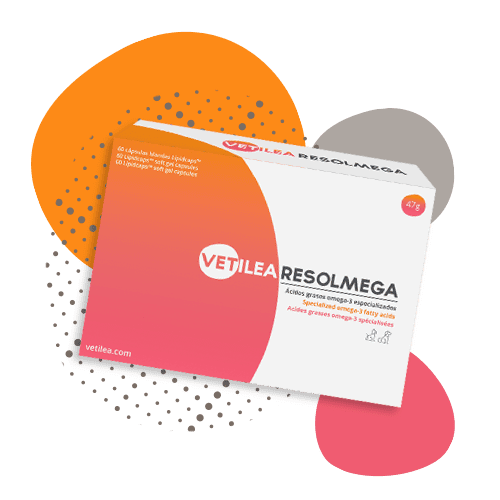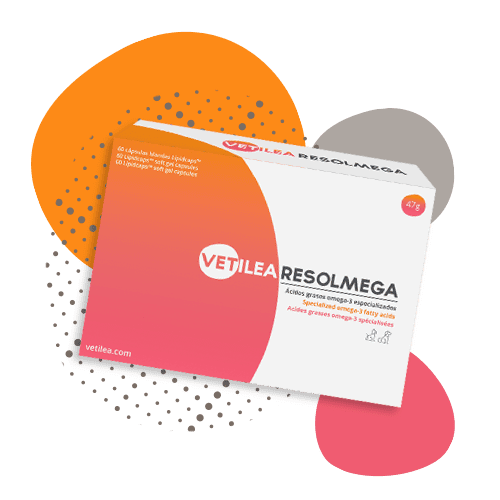 Specialized Omega-3 fatty acids
Support to support the body's natural ability to resolve inflammatory processes
Patented, Unique in the market
Specialized Omega-3 fatty acids
Vetilea Resolmega are capsules of Lipivet® specialized Omega-3 fatty acids from fish rich in DHA and EPA and standardized in pro-resolving mediators.
For use as a support to support the body's natural ability to resolve inflammatory processes, both acute and chronic, for example, in atopic dermatitis, osteoarthritis, metabolic imbalances or heart disease.


Lipivet is a registered trademark of Solutex.
60 easy-to-administer soft capsules
Video review – Elsa Genové Corominas, head of the laboratory's technical area
How does Vetilea Resolmega work?
Omega-3 fatty acids have membrane structural function, and pro-resolvins help support the body's natural ability to resolve inflammatory processes, both acute and chronic, for example:
In atopic dermatitis, helping to restructure the skin barrier, control inflammation, regulate the immune system and control itching.
In osteoarthritis, helping to reduce pain and improve locomotor function.
As a strengthening of the immune response, including pathologies that are secondarily associated with dermatological problems.
In heart disease and renal patients as a support to accelerate recovery from inflammatory processes.
The product is presented in soft, palatable and easy to administer capsules.
Active ingredients:
Fish oil concentrated in DHA
EPA
17-HDHA + 14-HDHA + 18-HEPE
Cats and dogs:
<10 kg 1 capsule per day
10-20 kg 2 capsules per day
>20 kg 3 capsules per day
Download the data sheet below
Inflammatory processes are the body's response to to injury or infection by pathogens. It consists of 3 phases main: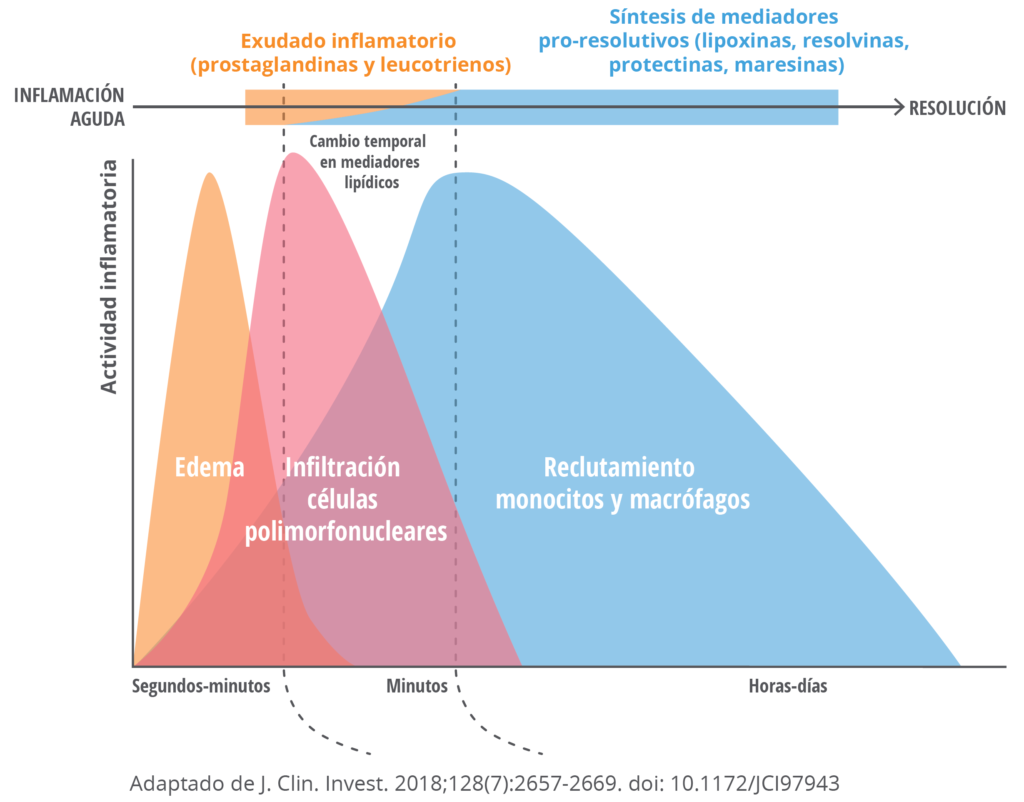 Inflammation is a process that is programmed to resolve naturally through pro-resolving lipid mediators, which allow recovery and return to homeostasis in several phases:
Directed by pro-inflammatory mediators: LTs, PGs.
Release of histamine: edema, redness, swelling, pain
Leukocyte and polymorphonuclear neutrophil recruitment
Neutrophils and macrophages phagocytize particles, debris and toxins in affected tissues.
Managed by pro-resolvins:
Termination of polymorphonuclear neutrophil recruitment.
Counter-regulation of pro-inflammatory mediators.
Stimulation of macrophage-mediated clearance: efferocytosis
Tissue remodeling
Pro-resolving lipid mediators ("pro-resolvins") have been shown to participate in the process of inflammation resolution:
Biosynthesis of lipid mediators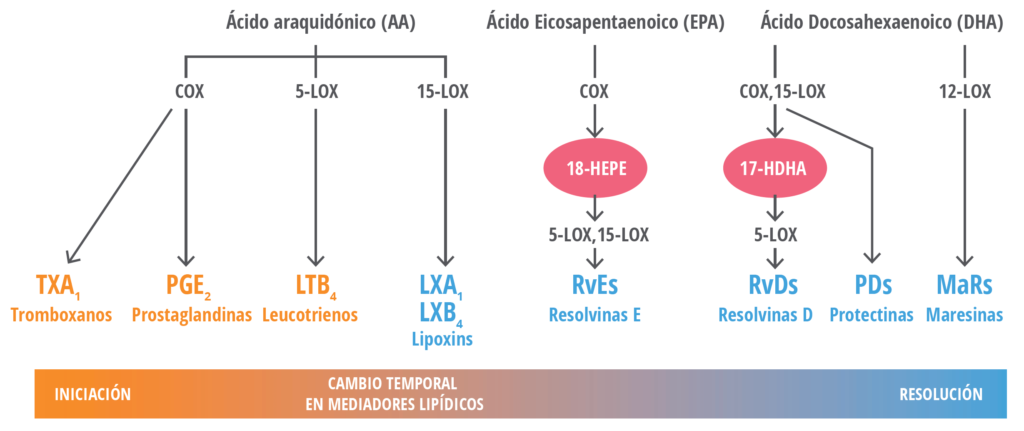 They are specialized lipid mediators that activate the metabolic pathway of proresolvins biosynthesis and restore the levels of SPMs in situations of imbalance.
Yes, it can be given with food
Yes, Resolmega can be given as a source of Omega-3 fatty acids in situations where this is necessary.
DISCOVER VETILEA RESOLMEGA
Fill in this form
to receive more information